Signal Driven

Trading

SYGNAL aggregates millions of buy/sell trading signals for thousands of financial instruments, all sourced from world-class hedge funds and professional quant managers
Don't just trade the
hype

.

Search trading signals for over 10,000 financial instruments. Type in a stock, ticker, asset or instrument class to get started.
Capture

upsides

Use SYGNAL to identify trade opportunities, improve market entry timing, and capture upside trends
Reduce

risk

Improve market exit timing and reduce drawdowns by closing trades as markets fall
Gain

discipline

Don't stress over every change in price. Add systematic displine and trade only when required
SYGNAL's
tools

give traders

Access to signals for over 10,000 liquid instruments

Trade signals for Stocks, ETFs, FX, and Cryptocurrencies

Best-in-class signals from professional quants

Customizable watchlists

get sygnal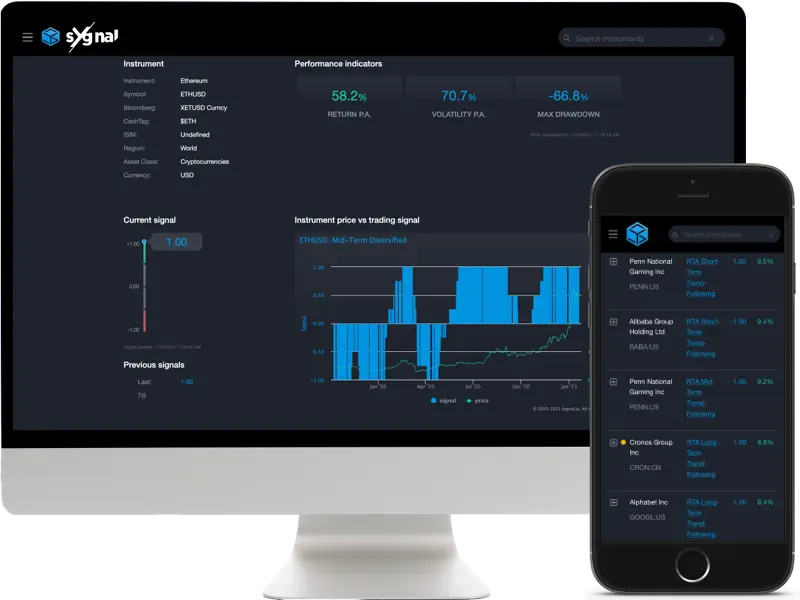 We deliver
professional

investment signals

Through partnerships with hedge funds, quantitative research firms, and data scientists, SYGNAL aggregates millions of professional buy/sell signals. We collect, audit, and recombine trading signals to help you generate Alpha.

see managers
Professional quants only
Actively managing or advising funds
Reliable track records
All
products

and services
Trading

Signals
Access state of the art trading signals for over 10,000 liquid instruments, all sourced from professional quant teams
Blockchain

Auditing
Use SYGNAL to establish an immutable, blockchain-based audit trail for your fund's trades or quant strategies, for a fraction of the cost of the big four
Crypto

Bots
Automate your crypto trades or strategies through our partnerships with legitimate crypto trading bot services and platforms
We
prove

that our quant investment models are accurate & trustworthy
SYGNAL collects signal data in real-time and applies hashing and blockchain technology to create a permanent audit trail. Our tools allow end-users to quickly & accuratlly veryify any track record.
learn more
blockchain verified
All buy/sell indicators on SYGNAL use a standardized format (-1.00 to +1.00) to ensure cross-model comparison, easy strategy implementation, coherent decision making and simplified integration.
See our ressources to learn more about using signals
learn more
Collective intelligence of
leading

quants

SYGNAL aims to connect investors, asset managers, and individuals with world-class quantitative financial experts.

Founded by a team of quants, traders, and mathematicians, we recognized that too much financial intelligence is in the hands of too few and that most signals available to the general public are nothing more than simple technical indicators.

SYGNAL opens up quantitative finance to individual traders and professional asset managers, looking for better information when deciding to buy, sell or hold an instrument. Through the SYGNAL platform, traders benefit from the power of quantitative financial analysis and quants gain access to a larger and more steady revenue stream.